Inclusive Hiring: Involve Your Employees or Keep Them Far Away?

Robin Schooling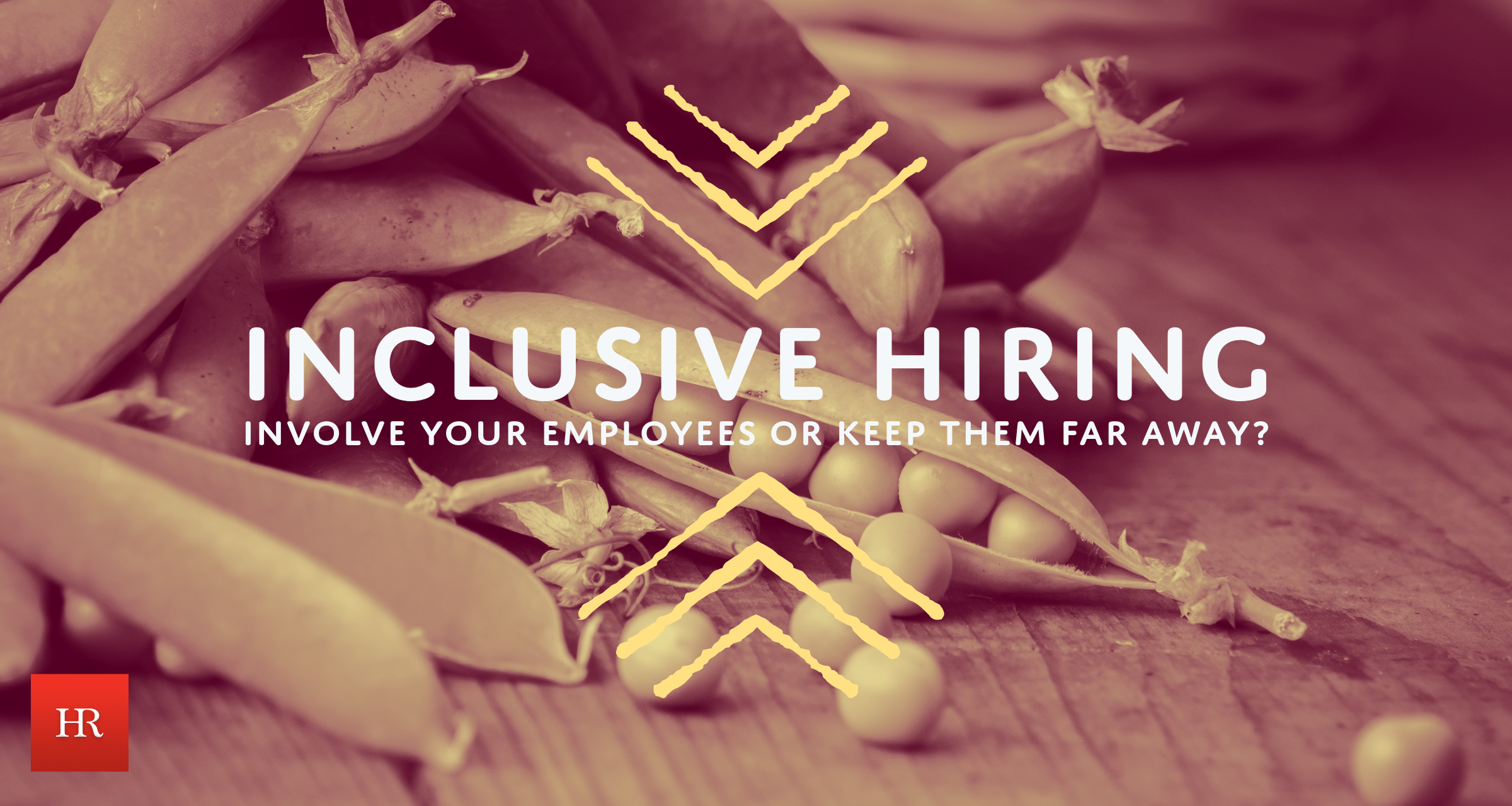 This past week, several members of our Humareso team attended Workhuman LiVE; an event we always enjoy. For several days we immersed ourselves in conversation and education about all aspects of creating and nurturing people-centric workplaces. We laughed, we cried, and we ate far too much delicious California cuisine.
While there were numerous sessions from which to choose, I found myself drawn to the topics about hiring. After all, the attraction and selection (and ultimately the retention and development) of employees remains top of mind across industries and geographies. With the unemployment rate remaining low and employment trending up in some industries (leisure and hospitality, health care, business and professional services), many employers continue to scramble to attract and hire for open positions.
Yet, after all these years and years of collectively refining hiring practices, we still have opportunities to tweak. To improve. To make hiring less painful for all involved… AND to make it more effective.
At its most elemental, the act of extending an offer to the "winning" candidate, is often a poorly designed game; akin to awarding the trophy to the individual who has completed the obstacle course ahead of all the other participants. (Or, occasionally, is merely the only one remaining). It's easy to understand how we got here. Numerous organizations - especially those with continual high-volume hiring needs and a lean HR or Recruiting staff – employ the same game strategy they believe served them well 2 decades ago.
But the world has changed. WORK has changed. Job seekers and employees have different expectations from their potential employment relationships than they did in 1985. And topping the list of things that employees want in their workplace is inclusion – believing that their contributions are truly valued. Furthermore, it's critical for many that there be representation of different people across all levels/roles in an organization and that every individual can be involved, developed, trusted, and empowered. And when we remember this simple, yet simultaneously seismic, shift in what people look for in an employment relationship, we can see the need to, perhaps, adjust our approach to hiring.
Inclusive Hiring
Two sessions I attended at Workhuman LIVE highlighted, in my mind, the extent to which current employers can either help or hinder not only hiring efforts but also the effectiveness of nurturing a truly diverse and inclusive workplace.
Looking internally, and contemplating the contributions of current employees, can help in the very early stages of the hiring process. Kat Kibben, in their session, 4 Ways to Delete Bias from Your Job Posts, discussed the importance of holding an intake meeting with the hiring manager. It's during this intake meeting when crucial information is gathered that will inform not only the creation of the job post/advertisement but will also create clarity for finding optimal candidates. It's NOW, during this conversation, that the HR staffer/ or Recruiter can ask "When you think of the best person who has ever done this job, what are they like? What did they do well?"
As Kat pointed out, this question, does not (thankfully!) result in a laundry list of 25 meaningless bullet points; this question is, instead, designed to get the hiring manager to think about a PERSON – a HUMAN BEING. In other words, a current (or former) employee who performed spectacularly in the role can not only inform the hiring process but also provide clarity on what "skills" truly look like in action.
Conversely, there are times when current employees may harm the organization's attempt to build an inclusive work environment filled with diverse perspectives and experiences.
Lauren Gardner, Corporate VP Global Talent acquisition with Microsoft, led a session on Building Culture: Inclusive Hiring Practices Every Team Should Implement Today, and discussed wide-ranging activities including the Microsoft Leap Apprenticeship Program. She also discussed how Microsoft dismantled one of HR's most sacred traditions – the employee referral program.
The referral program was popular for years and years; employees who referred a candidate who got hired (they made it through the aforementioned obstacle course!) received a bonus. And who doesn't like some cash?
But employees were, naturally, referring people who were "just like them." Friends. Buddies. Former co-workers. Chums from school. To the point where sameness permeated not only the organization but, one can assume, entire departments. And this led to the exact opposite of what, from a cultural standpoint, the company wanted – a diverse and inclusive workplace comprised of people with a variety of skill sets and experiences.
So the top lessons I learned in just these two sessions?
Hiring for your organization – and all the related processes, workflows, and activities – should never be static. It's critical to regularly reflect, review, and adjust.
You should utilize "employee modeling" when it helps ("who does this job well and what are they doing?") and avoid reliance on "employee modeling" when it contradicts your culture or has the potential to lead to unintended consequences.
Peas in a pod can be tasty. They can also be bitter.